Call me the design guy that knows advertising,
or the ad guy that understands design.
A Curious Learner—a Hybrid Creative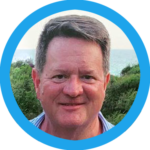 I was the guy in design school wearing khakis and a button down—when everyone else was going goth and wearing all black. My roommates were all business students. So, I learned to be a translator between creative and business. One of my design professors encouraged me to take some classes at the School of Technology—they had the best computers on campus. Along the way I learned how to run an offset press and what it really means to put ink on a substrate.
A package design class and an avid interest in the household products on the Price is Right steered me to Cincinnati and a career in consumer packaged goods. Cutting my teeth on Bounce Fabric Softener during the mid 1990s, I learned how design and storytelling at shelf can increase sales (pretty cool to see how the brand has evolved since). At any rate, I was afforded the opportunity to become somewhat of an agency hybrid—half designer, half strategist and half account person (ok, I know that's three halves, but I said account, not accounting). From there, I've gone on to support other global CPG brands, as well as the B2C and B2B categories—including brands in retail, restaurant and healthcare industries.
My work may have started in print and packaging, but has evolved to include clients and branding across all visual media channels. The tactics may be different, but the overall goal is the same—make a connection with an audience, provide rationale to the business stakeholders and sell, sell, sell.

Some Things I've Learned from Clients and Their Brands:
Services Include:
Corporate Communications
Competitive Audit
Workshop Development
Consumer Research
Brand Strategy and Positioning
Brand Character and Architecture
Brand Identity
Brand Guidelines
Creative Concepting
Photography Direction
Package Design
Design Implementation
Supply Chain Management

---
Disclaimer: Due to the confidential nature of previous client projects, much of it is not available for public display. Additionally, many of the projects were completed while employed with other agencies—which may retain ownership of the work. The comments and opinions expressed on this site are of the individual author and may not reflect the opinions of these agencies, the project clients and/or the brands listed. All logos, graphics and designs are the property of their respective owners.