Management of Global Packaging
As Senior Brand Identity Manager at leading Omnicom brand consultancy Interbrand, I led efforts on a number of branding, promotional and global packaging initiatives for Procter & Gamble's Iams and Eukanuba brands.
Global Packaging Adaptation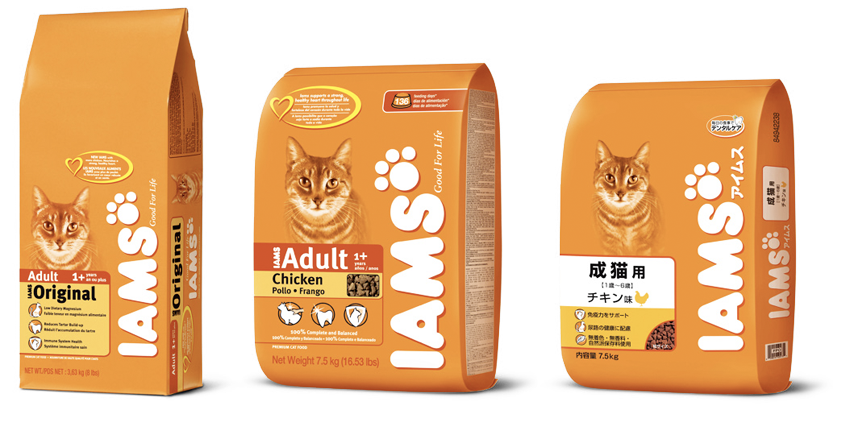 On an ongoing basis, Iams and Eukanuba products were adapted for use globally. Cultural, legal and structural differences were taken into account when developing initial packaging concepts, through implementation and production.
Regional packaging was distributed in:
North America (U.S. and Canada)
South America (Latin and South America)
Western Europe
Japan
Asia and Latin America (China, Korea, Latin and
South America, Australia, and New Zealand)
Specific Project Benefits included:
Use of iconography reinforced the brand and benefit messages with minimal text.
Photography was used to promote shopability and provide an emotional link.
Multiple Interbrand offices partnered to provide seamless regional support.
Resources were developed to coordinate copy translation and management, as well as, compliance with regional legal issues.
Strategic intent was maintained across regions with emphasis on brand communication.
Distribution cost saving was realized with packaging that could be shipped to multiple regions.
Production process and method were leveraged for multiple regions, providing additional cost saving within implementation phases, as well as a single point of accountability for consistency and quality control.
Promotional Packaging Adaptation
Iams often used the promotional package as a tool for various types of initiatives. Simple value and benefit communication messages or multi-packs were leveraged against competition to provide the consumer with a reason for purchase. With multi-pack kits or bundles, additional shipping, distribution, storage and shelving issues were addressed.
Trial and Introductory Packages and Kits
Variety / Multiple Formula Packages
Bonus and Value Packages
Seasonal Packages
Secondary packaging utilized to communicate promotional messaging
Contents and reason for purchase were clearly communicated
Overall brand equity remained intact through a balancing of communication priorities
Promotional messaging created with production and logistical issues considered
Promotional packages drive sales and promote new initiatives
Give the consumer an additional motivation to purchase
Iams and Eukanuba projects completed while employed with Interbrand. The comments and opinions expressed on this site are of the individual author and may not reflect the opinions of Interbrand, Procter & Gamble and/or the Iams and Eukanuba brands.