Parts Packaging
GE Appliance Parts Packaging Wins 2016 American Package Design Award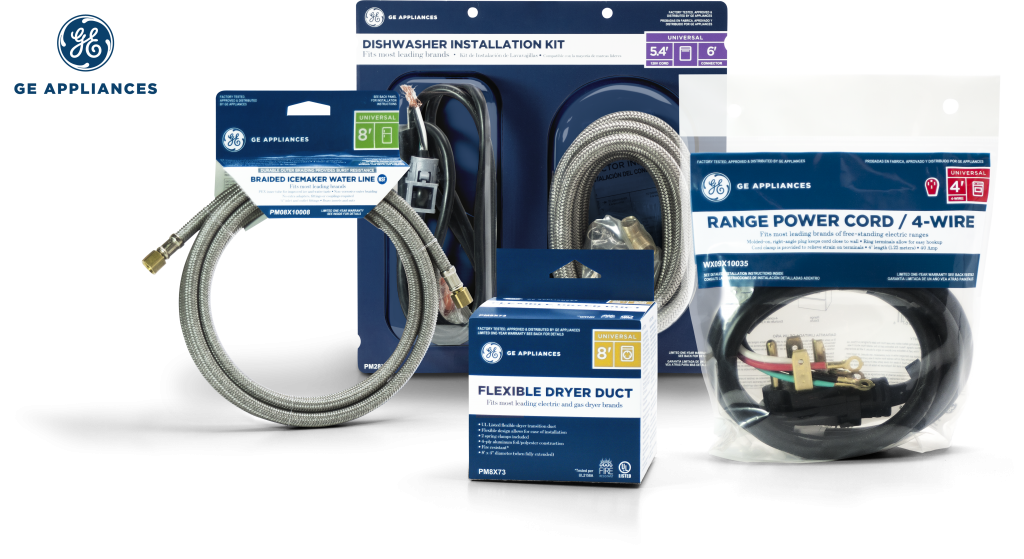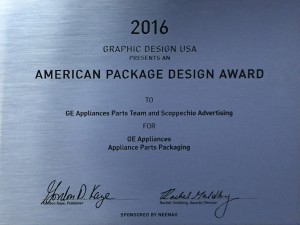 Scoppechio Advertising's work on the redesign of GE Appliance Parts Packaging has been recognized by Graphic Design USA with a 2016 American Package Design Award—within the Home, Garden and Industrial category.
The annual GDUSA competition celebrates well-designed graphics and the power of package design to create emotional links with the shoppers at the moment-of-truth.
The redesign—of over 80 products—focused on creating an overall brand block of packaging at shelf and enhancing shop-ability with an entirely new information and iconography system. The project was taken in front of consumers on two occasions—a week long Internet community with both consumer and contractors providing feedback on early concepts, as well as a series of focus groups to better understand package communication and brand value.
The Parts Packaging Challenge
Identify and implement the ideal retail parts packaging design, content and merchandising collateral portfolio to sell to consumers in the retail channel.
Elevate the GE Appliances brand and tell the "Made For Me" story
Align with retailer objectives, support line review
Provide an enriched shopping experience for consumers and contractors
Holistic and Streamlined Approach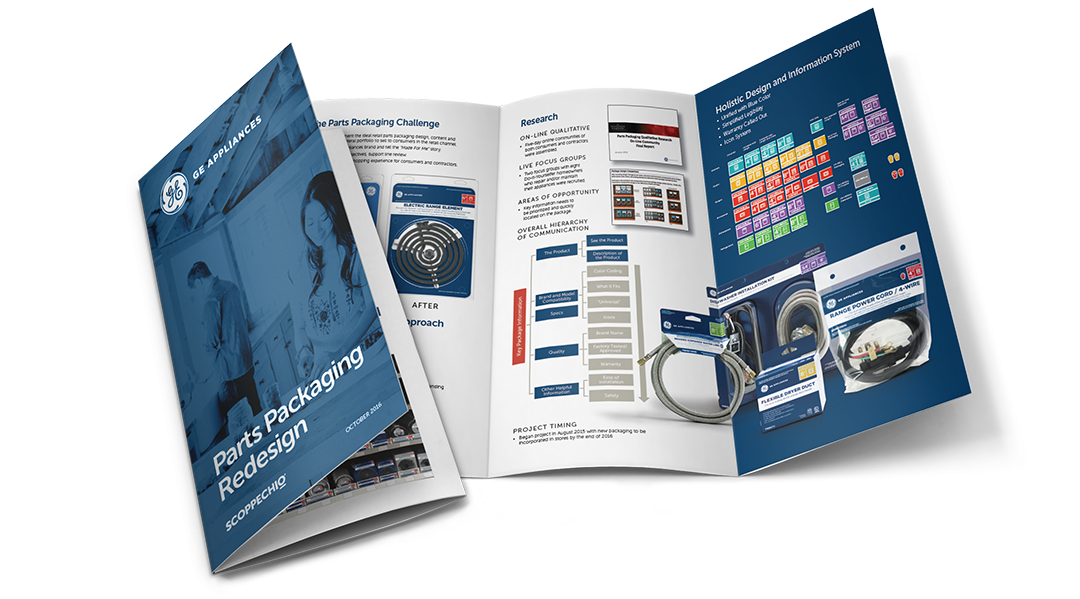 Strategic and Creative Foundation
Store visits and stakeholder interviews
In- and out-of-category creative audits
Identify key shopper insights and "retail realities"
Conceptual Phase
Consistent, standardized solutions to be executed both inside and outside the current retail parts marketplace.
In-bay solutions that can be executed in The Home Depot (and other National Accounts)
Freestanding solutions that can be executed within Independent Dealers
Adaptation and Refinement
Adapt the design across all 65 retail parts to maintain the integrity of the approved concept and allow for cohesive experience/set-up in store
Artwork Finalization
Manage execution between GE Appliances and external stakeholders—ensuring downstream efficiencies
Internal process for updating: copy documents, packaging templates, Spanish translation and proofreading, GE Appliances team proofing
Vendor Color Guidelines
Research
On-Line Qualitative 
Five day online communities of both consumers and contractors
Information needs to be highlighted and communicated so purchasers can find it quickly.
Contractors and consumers just want to make sure it's the right part, it will fit and that it's high quality
and durable.
Among both contractors and consumers, seeing and touching the part is important.
Holistic Design and Information System
Unified with Blue Color
Products are unified with single background color, while maintaining easy-to-distinguish product line colors
Simplified Legibility
Communication hierarchy and icon system established via consumer testing for simplified and bolder product legibility
Warranty Called Out
Mention of warranty and installation instructions now appears on front, with additional detail on back
Icon System
Iconography and Product Informational System developed for easy communication and shoppability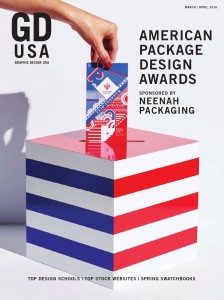 ---
Project completed while employed with Scoppechio. The comments and opinions expressed on this site are of the individual author and may not reflect the opinions of the agency or client brand.
SaveSave
SaveSave