Branding Multinational Telecommunications
As Senior Brand Identity Manager at leading Omnicom brand consultancy Interbrand, I led efforts on a number of global packaging initiatives for AT&T.
Packaging Design System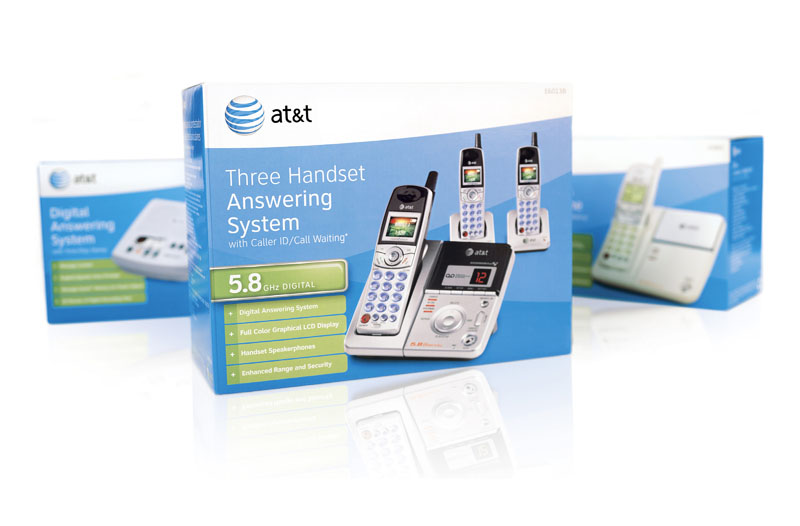 Before merging in 2005, SBC and AT&T had very different portfolios of packaged products. SBC's brand was present on only two retail products, one DSL modem and one combination DSL modem/wireless router. AT&T, on the other hand, had a mature licensing program with phone and accessory manufacturers across a range of 150 products, selling more than 11 million units per year in retail. Interbrand's packaging team was charged with applying AT&T's new brand identity packaging, and building consumer-focused, comprehensive packaging system that would unify all of AT&T's offerings across multiple product categories.
Interbrand conducted a thorough pre-design phase of work involving consumer shop-alongs in four product categories (residential phones, voice over IP phones, small business phones and wireless phones), management interviews with AT&T marketing and product teams, retail audits and competitive analyses. The design phase of work involved an extensive sketch session and creative exploratory, two rounds of qualitative research and one online quantitative survey where consumers evaluated design alternatives within a competitive context and measured different AT&T designs against the brand pillars to ensure that the packaging reflected the spirit and personality of the brand.
AT&T's final package design system is founded in the unified placement of the AT&T globe within a white arc across the top of every package, creating a consistent and eye-catching graphic across all aisles of the store. A universal, textured blue background is used across all product categories to create a strong and impactful brand block across multiple facings. Accent colors in the feature "menu" bar vary according to product category with green for phones, purple for internet hardware, eggplant for voice over IP, orange for wireless, etc. The visual focus of the front panel shifts from product category to product category according to the role of the package in consumers' purchase decision process. In residential phones, for example, the focus of the front panel is the uninterrupted product photo, since the package is used in this category to match the box with the model phone on the display shelf in store. For Internet Hardware and Voice Over IP, lifestyle photography is added to the front panel to communicate ease of use and the end benefit of the product's coordination with AT&T's service (i.e. freedom to use your laptop anywhere in the house with wireless DSL service).
Brand Center Packaging Guidelines
The guidelines for the next generation of AT&T packaging detail the packaging brand elements that, when used together, communicate AT&T's commitment and dedication to connecting with consumers. In general, the AT&T 2.0 packaging system follows the overall AT&T 2.0 brand system. However, there are subtle refinements and some unique requirements for the packaging system that differ from the AT&T 2.0 brand system.
The guidelines explain information on how to use the Brand Elements on packaging: AT&T signature, color, typography, etc. These elements are used to create robust packaging for all categories within the residential and mobility offerings of AT&T products. While these two categories are visually unique, each relies on the same basic elements.
Specific packaging characteristics for individual products and product categories are detailed within these guidelines. Links to corresponding AT&T 2.0 Brand Center sections are included for easy reference.
Supply Chain Development
Along with the reduction of global trade barriers and increased low-cost delivery methods, Internet technology has matured into a valued global resource for business. Opportunities for extending capabilities and sourcing new supply chain partners have become more prevalent. A variety of industries—most notable manufacturing and technology—have seen financial benefits from the utilization of offshore partners that would have been out of reach just a few years ago. The benefits of the global economy have provided a mandate to investigate partnering with offshore suppliers to remain competitive within the marketplace and realize increased growth potential.
The creation, implementation and production of consumer goods packaging is no exception to the trend of supply chain offshoring. To remain industry leaders in the production of packaging, the current supply chain must consider the capabilities of possible offshore partners. The client lists of many of these offshore corporations include global consumer goods marketers and many competitive agencies. It may be only a matter of time before the rest of the marketplace to realize the benefits of supply chain offshoring.
Asian markets including Japan, Tawain and China have long been seen as viable regions for the manufacture of goods. With the advent of a robust communication infrastructure and the digitalization of much of the consumer goods supply chain, other countries are emerging as leaders within the global community. Asia, Latin America, Eastern Europe and the Middle East all represent regions with opportunities for potential supply chain partners. The benefit of a large English speaking and technically savvy population makes India a very attractive region for partnering with the West. Other specific countries offer differing benefits to corporations willing to offshore a portion of their supply chain.
Possible negative issues impacting offshore partnering are lack of physical infrastructure, political unrest and less educated labor forces. Additionally, offshoring has become an extremely controversial issue, with polarized perspectives within the United States. It may be seen as a negative aspect of current business practices. Both the human rights policies of the offshore country and the loss of American jobs are sighted as reasons against offshoring a supply chain. The increased risk of pirated intellectual property is also a negative issue specific to the offshoring of packaging production. The recent trend of sustainability in supply chains also finds fault with offshoring and the increased amounts of carbon energies used to transport materials over larger distances.
Even with the negative aspects of supply chain offshoring, the trend can represent a significant competitive edge in the marketplace and should be considered.
AT&T projects completed while employed with Interbrand. The comments and opinions expressed on this site are of the individual author and may not reflect the opinions of Interbrand and/or AT&T.